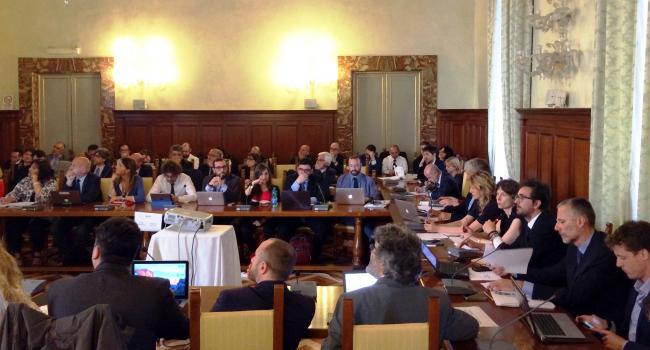 The Open Government Forum was officially established  on 6 June 2016 to ensure a participatory and broad debate on open government issues. It brings together representatives of civil society, academia, businesses and consumers' protection associations. 
LIST of member associations
Accademia Italiana del Codice di Internet

ActionAid International Italia ONLUS

Agenda Digitale Giustizia

Agorà Digitale

Antigone ONLUS

Associazione Articolo 21

ASSOCIAZIONE BANCARIA ITALIANA (ABI)

Associazione Carteinregola

Associazione Comunicazione Pubblica e Istituzionale

Associazione dei docenti e ricercatori di Sistemi Informativi –

itAIS

Associazione Industria Italiana del Software Libero

Associazione Italia Camp

Associazione Italiana per la Partecipazione Pubblica (AIP2)

Associazione Leva Digitale – Gruppo Facebook Trasparenza

siti web PA

Associazione Nazionale per Operatori e Responsabili della

Conservazione Digitale (ANORC)

Associazione Open Genova

Associazione Openpolis

Associazione Volontariato "D 4 Divergent"

Assoutenti

Cantieri Animati

Cattedra di "Teoria e tecniche del lobbying" dell'Università

LUISS "Guido Carli"

Centre for Media and Democratic Innovation-LUISS

Centro Nexa su Internet e Società (DAUIN) Politecnico di

Torino

CeSDA s.r.l.

Circolo dei Giuristi Telematici

CiteMOLCA

Cittadinanzattiva

Cittadini Reattivi Associazione Promozione Sociale

CNA

Codici – Centro per i diritti del cittadino

Comma 22 ONLUS – Associazione per i diritti dei cittadini

Confagricoltura

Confartigianato Imprese

CONFCOMMERCIO IMPRESE PER L'ITALIA

CONFCONSUMATORI

Confederazione Italiana Agricoltori- Agia

Confederazione NazionaleColdiretti

Confesercenti

Confindustria

DataReporter

Dipartimento di Informatica, Università di Salerno

Diritto Di Sapere

Ecosistema camerale

Fabbrica del Cittadino

Federazione Relazioni Pubbliche Italiana (FERPI)

Fermentazioni LAB

Fondazione Bruno Kessler

Fondazione per la cittadinanza attiva (FONDACA)

FondazionEtica

Forum Latina

Futuro Digitale

GAP

Global Shapers

Gruppo Facebook Trasparenza siti web PA

Impactscool

Impresa Sociale Formever Lab Società Cooperativa Sociale

Informatici senza frontiere ONLUS

International Web Association

ISACA Roma

Istituto Italiano Open data

Italia Startup

Italiadecide

LABGOV

Laboratorio per la sussidiarietà (LABSUS)

LABSUS – Laboratorio per la sussidiarietà

Lega Nazionale delle Cooperative e Mutue (Legacoop)

Libera

LibreItalia

MediaCivici

Movimento Roosevelt

NextPA

Nomisma SPA

Nuovo Modello di sviluppo

onData

OpenCalabria

Parliament Watch Italia

ParteCivile

Politecnico di Milano

Prioritalia

Reggio Calabria Servizi Informativi-Re.Ca.S.I. Spa

RENA

Rete per la Tutela della Valle del Sacco

Riparte il futuro

Sapienza Università di Roma

Sogei

Spaghetti Open Data

Spidiamo

Stati Generali dell'Innovazione

Tecnologie Democratiche

Transparency International Italia

UNIONCAMERE

Università degli Studi di Salerno – Dip. Scienze Politiche,

Sociali e della Comunicazione – Laboratorio "Diritto di

Università di Bologna – CIRSFID

Università di Napoli Federico II

ValleSi Vision per il territorio (Ass. Cult.)

Volsca Ambiente e Servizi Spa

Wikimedia Italia

Wikitalia

Wikitalia/onData

WordLift
This innovation was introduced with the third Italian OGP cycle and was formally included in the third Action Plan. The Annex to the Plan includes rules on the organization and functioning of the Forum.
As a general rule, the Forum's work relies on the following principles:
Periodical meetings: a plenary meeting takes place at least every six months and the working groups meet at least once every two months according to a calendar that has to be decided at least 15 days prior to the meeting;
Clear agendas: for every meeting the topics for discussion and the working method have to be specified;
Visibility of outcomes: the result of the Forum's consultation have to be made public;
Utmost inclusiveness: civil society organizations wishing to become members and make their contribution to the Forum have to fill in this application form.
All the
comments and results
 produced by the Open Government Forum members during the
consultation
on the third Action Plan are available
here
UPDATE: During the plenary meeting of 28 November 2016, some Open Government Forum members proposed to add a shared declaration to the Third National Action Plan. The document was sent to the OGP Support Unit and to the Independent Report Mechanism. 
Civil society representatives (organizations, associations, research centers) wishing to become members of the Open Government Forum are required to fill in this online form