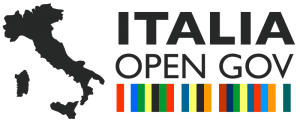 Italy officially joined the Open Government Partnership on 5 September 2011.
The first Italian Action Plan, submitted in April 2012, was developed by the Department for Public Administration in cooperation with other  public institutions: the Department for PA Digitalization and Technological Innovation, the Ministry of Education, Universities and Research (MIUR), the Ministry for Territorial Cohesion, CIVIT and a number of universities and research centres.
Italy's commitments include initiatives on "transparency and integrity", "simplification through participation" and "release of open data". The plan was released for public consultation in April 2012. In February 2014 the independent self-assessment report on the Plan's implementation was published.
On 10 December 2012, Italy hosted in Rome the third European Outreach Meeting of the Open Government Partnership dedicated to "Transparency, participation and collaboration: the Public Administration is open to dialogue". Throughout 2013, a number of different events were organized to discuss forms and methods for consultation and collaboration between public administration and civil society organizations.
In 2014, Italy participated in the Open Government Awards winning the 4th position with the initiative OpenCoesione on open data regarding the use of EU funds.
In December 2014 the Department for Public Administration, in cooperation with the Agency for Digital Italy (AgID) and the National Anticorruption Authority (ANAC) and after consulting the representatives of civil society organizations, submitted the second National Action Plan. The Plan includes six commitments on participation, transparency, integrity, accountability and technological innovation.
In May 2016, we started working on our third Action Plan by first setting up an institutional working group and, at a later stage, the Open Government Forum. On June 20 and 23, representatives of public administrations, civil society, research institutions and academia participated in a meeting of the three working groups (Transparency/Open Data, Accountability/Participation, Innovation and Digital citizenship/Digital skills) to discuss the commitments to be included in the new Action Plan.
The draft third Action Plan was made available for public consultation on this website from July 16 to August 31, 2016.