Inclusive digital innovation for Open Government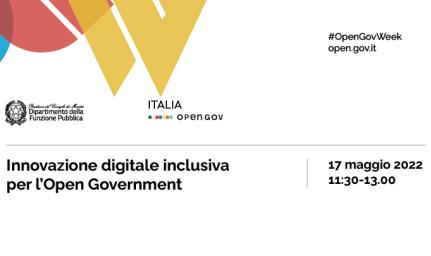 Subscription closing date:
Inclusive digital innovation is an enabling condition for implementing public policies regarding participation, transparency, and accountability principles.
In collaboration with the programs Repubblica Digitale, and Competenze Digitali per la PA, the event will be the occasion to illustrate the implementation of a national network of punti di facilitazione digitale, which have the aim of increasing citizens' digital skills in the framework of the national digitalization strategy.
Besides presenting the actors involved and the objectives to be achieved within the 5th National Action Plan, a perspective of further research, showing opportunities, also in relation to the Italian RRP, will follow.
The context, analysis and perspectives for inclusive digital innovation - Flavia Marzano, Task Force OGP, Civil Service Department
Commitment 5.01 - Digital citizenship. Enabling inclusive digital innovation. Goals to be achieved and progress - Giuseppe Iacono, Digital Transformation Department, Digital Republic
Inclusive digital innovation from the world of research - Luca Gastaldi, Politecnico di Milano
Roundtable: inclusive digital innovation in the national strategy for open government and Q&A - Elisa Barbagiovanni Gasparo, Civil Service Department

. Participants: AGID, Roma Capitale, UPI, Associazione Banche Italiane (ABI), Associazione Italiana Comunicazione, Attività Pensiero, Federazione Relazioni Pubbliche Italiana (FERPI), Social PA

Summary of the proceedings and closure - Giuseppe Iacono, Digital Transformation Department, Digital Republic
Materiali dei relatori
Materiali relatori_OGW2022_Innovazione digitale inclusiva per l'open government
6.17 MB
Video dell'incontro (I parte)
Video dell'incontro (II parte)