Public communication in Italy and in the OECD countries: the first report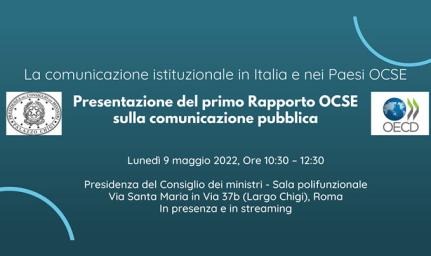 The first OECD Report on Public Communication - "Public Communication: the Global Context and the Way Forward" – will be presented on 9 May 2022 (Monday) from 10:30  at the Largo Chigi multifunctional hall (Rome) in an event organized by the Department for Information and Publishing in collaboration with the Organization for Economic Cooperation and Development (OECD). The event will be also web-streamed.
The global pandemic and a series of international crises faced by the humanity prompt the need for a quality public communication in support of institutions to better address the challenges but also to explain the transformation processes and to implement public policies.
The Report emphasizes the importance of good communication, gathering data and describing good practices and experiences from 46 countries and 63 institutions aimed to enhance the importance of strategic public communication which empowers Open Government principles and contributes to consolidating stronger democracies in an increasingly complex information environment. The Report demonstrates that the constantly evolving current information ecosystem requires reforms and timely investments, drawing up a real roadmap of trends, gaps and lessons learned, to ensure a truly effective public communication whose main tasks are to inform, listen and respond to citizens' needs.
The Report presentation event will give an opportunity to discuss - together with the authorities, professionals and practitioners - the institutional communication in Italy and in the OECD countries as well as the challenges of the digital evolution and disinformation.
For the online participation, please, forward your request to: segreteriadie.ufficio1@governo.it.