Building trust and reinforcing democracy: the meeting of the OECD Forum
The OECD Global Forum & Public Governance Ministerial Meeting takes place on 17 and 18 November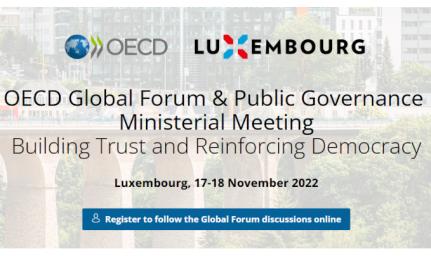 Subscription closing date:
The OECD Global Forum "Building Trust and Reinforcing Democracy" will take place in Luxembourg on 17 and 18 November.
In this crucial moment for democracy, the meeting represents an opportunity for the ministers from the OECD Member countries to jointly explore an action-oriented agenda to rebuild trust in public institutions. Building on the work under the OECD initiative, the sessions are dedicated to:
combatting disinformation;

improving representation and participation in public life;

transforming public governance based on new technologies,
with the aim to rebuild trust in public institutions and discuss the key challenges faced by the governments worldwide. The topics on the agenda are closely aligned with the agenda of the Open Government Partnership.
Following the Forum live requires prior registration selecting from the agenda  the sessions to follow.
It is also possible to follow the Forum on social media via the @OECDgov profile and the #ReinforcingDemocracy hashtag.