Youth and women participation: the open government contribute to rights and democracy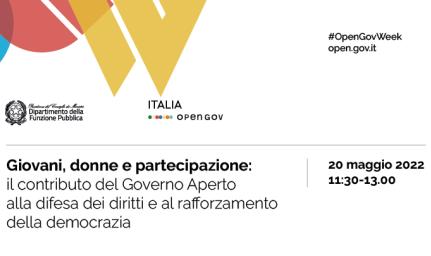 Subscription closing date:
The protection of civic space focuses on gender equality and on the relationship between young people and participation. To be effective with the objectives of the European Pillar of Social Rights, Italy's recovery must give equal opportunities to all citizens. Due to pandemic and Russian aggression of Ukraine, those fundamental rights have turned out to be extremely fragile.The webinar aims at discussing proposals to reduce gender and generational gaps. The debate, involving PAs and CSOs, will bring ideas to promote innovative policies, contributing to women and youth's participation.
Opening works - Sabina Bellotti, Civil Service Department
Commitments for the promotion of civic space - Beatrice Bernardini, Task Force OGP; Mariella Pagliuca, Equal Opportunity Department; Maria Cristina Pisani, National Youth Council

Participation and inclusion as tools for strengthening democracy: good practices and critical issues in Italy

Question and answer session
Materiali dei relatori
Interventi relatori_OGW2022_Giovani, donne e partecipazione: il contributo del Governo Aperto alla difesa dei diritti e al rafforzamento della democrazia
1.42 MB