Open Government Partnership between the past and the future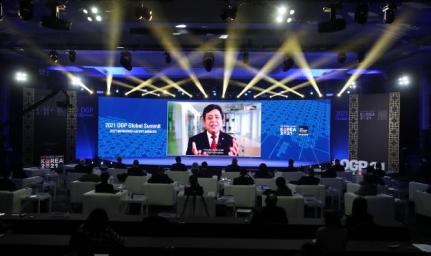 The Open Government Partnership Global Summit organized by the Republic of Korea took place online from 15 till 17 December. The Summit events provided an opportunity for reflecting on the progress of OGP achieved in the first decade since the launch of the initiative. Aligned with the current priorities on the agenda, the discussions were focused on strengthening civic space and public participation, corruption prevention and promotion of inclusive digital innovation. The Summit also provided a moment for an important discussion on a new vision for the next decade.
The Opening session, after a welcome speech by the Minister of Interior and Security of the Republic of Korea, involved through video messages various world political leaders, including the American President Joe Biden, the Canadian Prime Minister Justin Trudeau, the President of the French Republic Emmanuel Macron, the Estonian Prime Minister Kaja Kallas, the President of Indonesia Joko Widodo and the President of Kenya Uhuru Kenyatta. Their interventions have highlighted both OGP's progress and its future challenges, and in particular, the need to strengthen cooperation between civil society and governments as well as between governments worldwide.
It was followed by the Open Government Awards which announced the winners in the four geographical areas: Africa & the Middle East, Americas, Asia & the Pacific, Europe. The competing good practices implemented in various areas within the National Action Plans 2012-2018, were flagged by the Independent Reporting Mechanism for their innovation, impact and sustainability, as well as selected last October by the OGP community as Champions.
The three days of thematic sessions were complemented by the Youth Summit, coordinated by the global Accountability Lab movement, during which a group of young people from several countries presented their proposals in all OGP policy areas. The proposals of the movement's young speakers were focused on: improving information on the functioning of public institutions and civic participation as a way to fight corruption; the importance of inclusion of citizens beyond the decision-making phase; accessibility and effectiveness of digitisation.
The closing session, which involved three Co-Chairs: the outgoing one (the Republic of Korea and Maria Baron), the incoming one (Italy and Aidan Eyakuze) and the future one (Estonia and Anabel Cruz), was an opportunity to feature the future work agenda of the Partnership in view of the highlights from across the Summit. Italy was represented by Marcella Panucci, Head of Cabinet of the Department for Public Administration.
More information on the OGP Global Summit and its events is available at the link.
The sessions' recordings are available at the link.