Engaging next generations into participation spaces for the 2030 Agenda implementation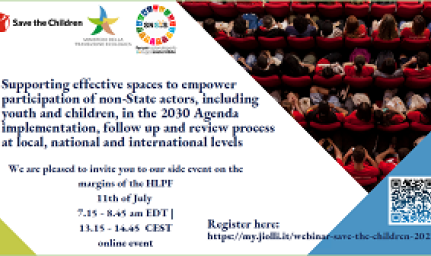 On the occasion of the United Nations High Level Political Forum (HLPF High
Level Political Forum), during which Italy will present its Voluntary National
Review on the implementation of the 2030 Agenda, on 15 July Save the
Children Italy, in collaboration with the MiTE and in partnership with the National
Forum on Sustainable Development will organize a side event "Supporting
effective spaces to empower participation of non-State actors, including youth
and children, in the 2030 Agenda implementation, follow up and review process at
local, national and international levels; focused on the role of youth and children".

The event will provide an opportunity to emphasize the importance of
collaboration between all stakeholders, state and non-state actors, for a more
sustainable future, and especially, to promote an actual and effective
involvement of children and youth into national and international decision-
making processes. The shared primary objective is to make their voices heard
and to ensure that they are accepted as equals at decision-making tables, also
via a direct engagement in the HLPF official delegations.