European Open Government Leader's Forum - Milan 2018
Participation as a key to better policy-making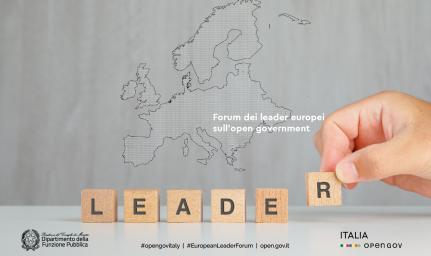 BASE Via Bergognone 34, Milan, MI, Italy
The European Open Government Leaders' Forum took place in Milan on the first day of the Open Government Week 2018 - the initiative organized by public administrations and civil society to promote the commitment of all key actors and to strengthen the sense of community on the open government principles.
The Forum brought together policymakers, high public officials, leading experts and representatives of civil society organizations from across Europe to discuss the role of civic participation for better policy-making and improved public governance systems. The debate also helped to generate new political support for open government and reinforced commitment to action.
The programme included two sessions. The morning session was focused on an interactive discussion on participation as a means for an effective promotion of innovation, improvement of public services and restoring trust between public institutions and citizens. The first session comprised three thematic conversations which facilitated interaction between the participants and helped to receive structured proposals for inspiring political commitment in the region. The national, local and European models of civic participation were at the core of the sessions.
The afternoon session was dedicated to the administrations and associations which presented best national participatory practices from the OGP programmes and from a specific scouting exercise of the Italian Civil Society Organizations (CSO). The session included two parallel events: a poster gallery with texts and multimedia materials related to 20 good practices and an interactive talk, during which 10 speakers presented in detail 10 of the 20 good practices.
The results of the Forum discussions were summarized in the Final report which, among other things, highlighted two elements for public participation: direct citizen engagement and deliberative democracy.
The full videos of the speakers' interventions are available on the Italia Open Gov YouTube channel.
OPENING REMARKS
Anna SCAVUZZO, Deputy Mayor of Milan
Marianna MADIA, Minister for Simplification and Public Administration, Italy
Sanjay PRADHAN, CEO of Open Government Partnership
Mari KIVINIEMI, OECD Deputy Secretary General
BASE
Via Bergognone 34
Milan MI
Italy