The Third National Action Plan

DOWNLOAD the 3rd Action Plan – IT (.pdf) DOWNLOAD the 3rd Action Plan – EN (.pdf) GO to the consultation
The final version of the Third National Action Plan was published on 20 September 2016.This document is the result of:

A participation process in which civil society was asked – firstly through the Open Government Forum– to express their priorities and, at a later stage, to contribute to improving commitments through a public consultation;
A collaboration process with the administrations involved, gathered together in an institutional working group that decided the commitments to be included in the 2016-2018 strategy based on the priorities suggested by civil society.
---
L'Addendum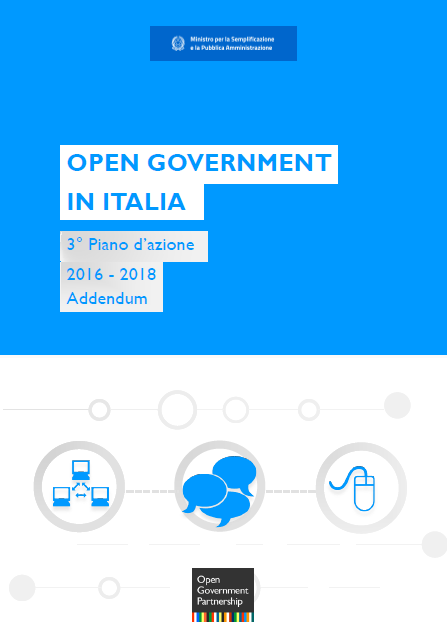 The final draft of the Addendum to the Third National Action Plan was published on 29 June 2017. This document forms an integral part of the Third National Action Plan 2016-2018 and complements it with new actions by public institutions that chose to become committed to disseminating open government in Italy.
The Addendum contains two sections:
One dedicated to Public Administrations;
Another one dedicated to the Institutions of the Republic.
The draft Addendum was available for public consultation from 8 May to 7 June 2017.
---
The report on civil society consultation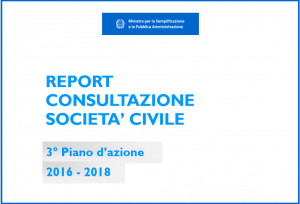 DOWNLOAD the Final Report (.pdf) GO to the Consultation
The consultation process for the adoption of the Third National Action Plan had two stages:
Firstly, through the work of the member organizations of the Open Government Forumset up at the Department for Public Administration. The work was carried out by thematic working groups between June 6 and July 14,  2016;
Secondly,through an online consultation where a participatory discussion tool was made available to users to post comments and suggestions on the various sections of the document. The consultation lasted 45 days from 16 July to 31 August 2016.
Once the consultation was over, administrations reviewed all the comments submitted by users and selected those to be included in the final version of the document, which was then published on 20 September 2016. At the end of this process to collect ideas, proposals and suggestions, a report on consultation was produced.
This is another innovation introduced with the third OGP cycle which is meant to value the participation of citizens and associations and report back on the impact of their proposals.
The Report has two sections:
The first section is dedicated to the Open Government Forum and describes the impact of the proposals made by the working groups on the production of the action plan and on the content of the single commitments.
Thesecond section describes the replies given by Lead Implementing Administrations to the comments posted by citizens during the consultation, and, where necessary, the reasons for not including them in the Plan.
If you wish to receive more information on the report, please contact the OGP Team at ogp@governo.it.
UPDATE: During the plenary meeting of 28 November 2016, some Open Government Forum members proposed to add a shared declaration to the Third National Action Plan. The document was sent to the OGP Support Unit and to the Independent Reporting Mechanism.