OGP CEO recognised as Social Innovator of 2022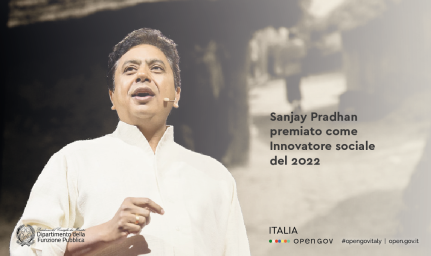 CEO of Open Government Partnership (OGP) Sanjay Pradhan has been awarded Social Innovator of the Year 2022 by the Schwab Foundation at the World Economic Forum's Davos Agenda 2022.
The Social Innovators Award honours annually 15 leaders for their outstanding efforts in tackling complex global problems, such as social inequality, youth unemployment, malnutrition and accessible healthcare, which have held back the socio-economic development in all countries of the world over the past year. Pradhan, one of the two recipients in the Public Social Entrepreneur category, received the award as "a tireless champion of good governance and fighting corruption", previously at the World Bank he supported data opening and since 2016 he has been leading the partnership of 78 OGP countries.  
Receiving the award, Sanjay noted: "I am honoured to accept the Schwab Foundation Award on behalf of the many courageous reformers and activists – and our amazing team that supports them – working across OGP to make governments more open and less corrupt.  At a time when citizen trust in governments has plummeted and authoritarianism is on the rise, these brave reformers are renewing democracy, building trust and forging a countervailing force against the rise of authoritarianism."