2022 OGP Europe Regional Meeting for a new global strategy on open government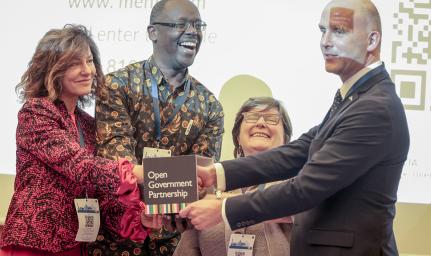 The OGP Europe Regional Meeting, organized by the Open Government Partnership and co-hosted by the Governments of Italy and Estonia, took place on 11 and 12 October. During the two days, Rome hosted over 240 government and civil society leaders representing 31 national and local members of the Open Government Partnership Europe and encouraging engagement and discussions between key international partners, open government champions and stakeholders.
The presential event gave an opportunity to share experiences and views and to generate new enthusiasm in addressing regional and global challenges to be faced by governments in the coming years. The rise of autocracies, economic and social recovery after the pandemic, the war in Ukraine and, ultimately, resource shortages are the problems that undermine the trust of citizens in governments, even in advanced democracies.
🎙️ #OGPItaly2022 gives us the chance to share knowledge, raise collective ambition and generate political support to face incoming regional and global challenges: #Europe can lead this process. So, let's be brave and do it together! 🤝 says @SPradhanOGP CEO of @opengovpart pic.twitter.com/htOIbKvuwu

— OGP Italia (@opengovitaly) 11 ottobre 2022
A new strategy for OGP's future
Paola Pisano, Aidan Eyakuze, Taimar Peterkop and Anabel Cruz, like other delegates, released a short interview on open government.
The meeting provided an opportunity to discuss, following the consultations of various communities that involve the Partnership worldwide, the problems to be addressed in the new strategy. Furthermore, on 13 and 14 October 2022 the OGP Steering Committee was held, also in Italy, to define the priorities of the 2023-2027 strategy and the related action models.
2022 OGP Europe Regional Meeting
Throughout 20 working sessions 72 speakers and a community of active participants discussed many topics, including fight against disinformation and corruption, digital innovation, protection of civic space and participation in decision-making processes.
During the opening, after the welcome words and greeting messages from the institutional and civil society representatives, Sanjay Pradhan, CEO of OGP, referred in his speech to the most advanced practices implemented within the Partnership, and also to the emerging problems highlighted by the Partnership members. Next, we tried to answer the following questions:
Watch the recording of the Opening Plenary streaming on the Italia Open Gov website.
In the afternoon, the first six parallel work sessions covered the following topics:
The second day was opened with a facilitated group discussion on: "What does open government need to function better?" Afterwards, the participants addressed various relevant issues, again in a group work.
In the afternoon, the resumed parallel thematic sessions sought answers to the following questions:
Event promotion
The event was largely followed on Twitter where the Opening Plenary was highlighted through live-tweeting from the Italia OpenGov account @opengovitaly and the participants enriched the debate with the #OGPItaly2022 hashtag.